Springs Interactive Media is dedicated to you and all your Public Relations (PR) and Marketing needs. Our objective is to boost your reputation by providing positive PR across multiple channels.
We have more than 20 years of experience and have won several awards for our work. But, our most important win is creating a long-term relationship with YOU!
Clients of Springs Media have been featured on dozens of news segments across the U.S., Canada, and around the world. Imagine your business at the center of a positive story, broadcast to hundreds of thousands of potential customers. That's what we can do for you!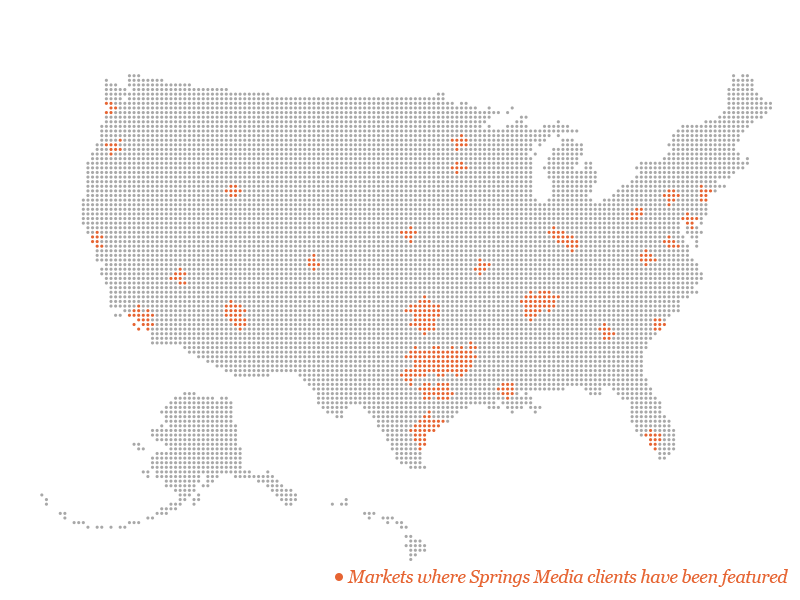 Let's Put you on the map!
Arkansas
KFSM-TV, Fort Smith
Arizona
KPHO-TV, Phoenix
KTVK-TV, Phoenix
News Now, Tucson
California
ABC7-TV, San Francisco
KFSN-TV, Fresno
KEYT-TV, Santa Barbara
Colorado
KMGH-TV, Denver
Florida
WZVN-TV, Ft. Myers
Georgia
WJBF-TV, Augusta
Hawaii
KITV_TV, Honolulu
Idaho
KIFI-TV, Idaho Falls
Indiana
WRTV-TV, Indianapolis
WAWV-TV, Terre Haute
Louisiana
WBRZ-TV, Baton Rouge
Maryland
WMAR-TV, Baltimore
Minnesota
KSTP-TV, Minneapolis
CTN-TV, Minneapolis
Missouri
KDNL-TV, St. Louis
Nebraska
KLKN-TV, Lincoln
Nevada
KTNV-TV, Las Vegas
Oklahoma
KFOR-TV, Oklahoma City
Oregon
KATU-TV, Portland
KDRV-TV, Medford
KPTV-TV Portland
Pennsylvania
WTAE-TV, Pittsburgh
WHTM-TV, Harrisburg
WPMT-TV, Harrisburg
South Carolina
WCIV-TV, Charleston
Tennessee
WKRN-TV, Nashville
WSMV-TV, Nashville
Texas
KXAS-TV, Dallas
KTVT-TV, Dallas
WFAA-TV, Dallas
KDAF-TV, Dallas
KPRC-TV, Houston
KRIV-TV, Houston
KVII-TV, Amarillo
KRGV-TV, Harlingen
Dallas Morning News
Ft. Worth Star-Telegram
Virginia
WRIV-TV, Richmond
WSET-TV, Roanoke

Follow Us
We serve the greater Dallas-Ft. Worth, Frisco, Plano, Carrollton, Richardson, Arlington, Highland Village, Flower Mound, Lantana, Lewisville, Grapevine, Southlake, and Colleyville area.